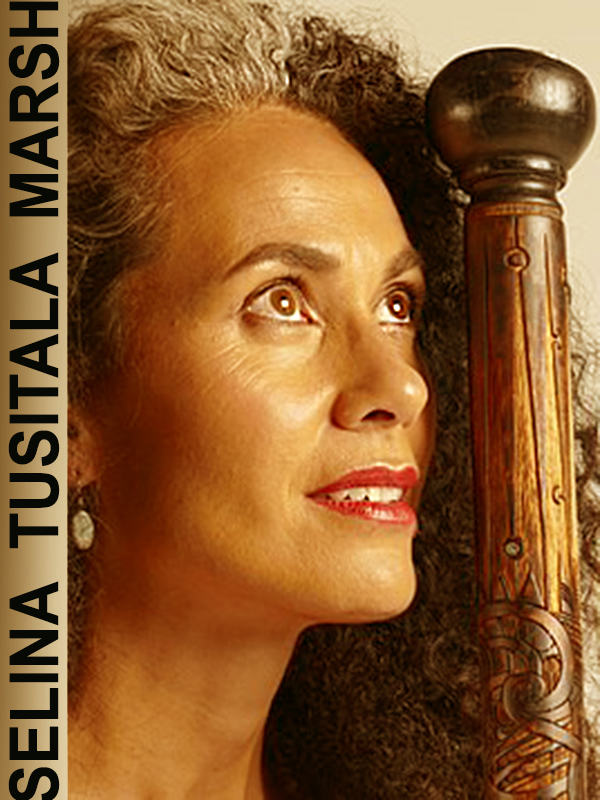 Dr. Selina Tusitala Marsh (n. 1971) este poetă şi intelectuală de origine samoană, tuvaluană, scoțiană și franceză. A fost prima persoană originară din Pacific care a obţinut doctoratul în limba engleză, la Universitatea din Auckland, unde predă acum scrierea creativă și studii literare maore și pacifice.
Creaţia Selinei Tusitala Marsh a fost publicată pe scară largă și a apărut într-o serie de reviste și antologii literare online și tipărite, incluzând Blackmail Press, Whetu Moana: Contemporary Polynesian Poetry in English, Mauri Ola: Contemporary Polynesian Poetry in English–Whetu Moana II (Auckland University Press/UHP), Best New Zealand Poems 2006, Niu Voices: Contemporary Pacific Fiction 1 şi The Contemporary Pacific (UHP).
Primul său volum de versuri, "Fast Talking PI" a fost publicat de Auckland University Press în 2009, iar în 2010 a obţinut premiul "NZSA Jessie Mackay" pentru cea mai bună carte de poezie, la debut. Selina Tusitala Marsh a fost numită Poetul Commonwealth-ului în 2016. În august 2017, Selina a fost distinsă cu titlul de Poet Laureat al Noii Zeelande pentru 2017-2019.
***
Dr Selina Tusitala Marsh (n. 1971) is an Auckland-based Pacific poet and scholar of Samoan, Tuvaluan, English, Scottish and French descent. She was the first person of Pacific descent to graduate with a PhD in English from the University of Auckland, where she now lectures in both creative writing and Māori and Pacific literary studies.
Selina Tusitala Marsh's work has been widely published and has appeared in a range of online and hardcopy literary journals and anthologies including Blackmail Press, Whetu Moana: Contemporary Polynesian Poetry in English, Mauri Ola: Contemporary Polynesian Poetry in English–Whetu Moana II (Auckland University Press/UHP), Best New Zealand Poems 2006, Niu Voices: Contemporary Pacific Fiction 1 and The Contemporary Pacific (UHP).
Her first collection of poems, "Fast Talking PI", was published by Auckland University Press in 2009, and subsequently won the 2010 "NZSA Jessie Mackay" Best First Book Award for Poetry. Selina Tusitala Marsh was named the Commonwealth Poet for 2016. In August 2017, Selina was awarded the New Zealand Poet Laureate for 2017–2019.
***
NOUA ZEELANDĀ, ŢARA NOROCOASĀ
(pentru Leadership New Zealand şi Jo B)
Noua Zeelandă, ţara norocoasă
Aotearoa, pământ al poeziei divine
al lui Papatuanuku şi Rangi,
iubitori ai pământului, cerului şi mării,
progenitori ai maorilor.
Da. Noua Zeelandă-i o ţară norocoasă!
Norocoasă, fiindcă frații erau fii fără odihnă
norocoasă, fiindcă ei s-au luptat acolo unde învinsese întunericul
norocoasă, fiindcă îşi doreau lumina soarelui
și căldura în aer liber.
Norocoasă prinTane, fiul inimos
care a condus revoluţia fără vărsare de sânge
norocoasă, că el a avut tăria să rămână neînduplecat
şi să-şi separe părinţii.
Norocoasă prin iubitii care s-au iubit atât de mult
în pofida lipsei de mângâiere blândă a celuilalt
pentru că Rangi plânge cu lacrimi din cer atât de uşor
și pământul fecund al lui Papatuanuku-i atât de vindecător
dându-ne pădurile lui Tanemahuta și râuri verzi ca jadul,
lacuri, izvoare subterane
o centură verde în jurul șoldurilor acestei națiuni
sărutată din toate părţile de buzele albastre ale mării.
De la Te Wai Pounamu la Te Ika a Maui
de la roca verde la mulţimile de peşti,
norocoasă, norocoasă ţară eşti.
Vezi cum se înroşeşte pohutukawa adânc
de-a lungul marginilor stâncilor ridicându-se abrupt
unde spiritele morţilor pornesc spre Hawaiki
de la Capul Reinga la Marea Rakiura.
Da, Noua Zeelandă este o ţară norocoasă,
dacă nu ești băştinaş
ești om al tratatului (neozeelandez)
fie britanic, sud-african sau somalez
chinez, indian sau israelian
la noi e diversitate
nu o politică de purificare etnică –
ei bine, cu excepția din jurul lui 1833
acea strategie, "pătură infectată",
Destinul Manifest al Marii Britanii
luând pământ prin orice mijloace la îndemână
platformă istorică pentru maori
luptând războaie pe uscat, pe ţărmuri,
Bastion Point arătând calea
către binecuvântatul Tratat Waitangi
punând focul unde doare mai mult
împotriva tiraniei paternaliste
Doar fă-o, a spus Sir Tipene
cum odinioară încuraja Nike.
Da, Noua Zeelandă este o ţară norocoasă
acest pământ, casă pentru emigrantul tauiwi
de la 1858 Wellington Gujarati
până la vulpile zburătoare ale lui Al Wendt
în copacul libertăţii
faima lui Pule pe o canava de 10 metri pe 3
unde 250.000, la Western Springs
beau cu sete din izvor. Ascultă-i cum cântă:
kiribati, fijians, tuvaluans, samoani,
ni-vanuatuani, rotumani, tongani,
nouzealandezi de origine
și fuziunea de la Niue cu muntenii din Scoția
creează Fij-ongans, oamenii mării-Raro
şi insularii-Pakeha.
Noi am avut Muldoon-ul nostru
dar el nu a fost Mugabe
noi suntem pe al patrulea loc în lume
cu cea mai puţină conspiraţie politică
noi suntem liberi să purtăm
tricourile noastre cu lozinci.
Pe strada Reginei citesc:
Politicienii sunt la fel peste tot.
Promit un pod unde nu există niciun râu.
Şi acesta, din Taupo, mai jos de lac:
În NZ oricine poate fi prim ministru –
este un risc pe care ţi-l asumi.
Noua Zeelandă este o ţară norocoasă
unde dreptul nostru din naştere şi datoria civică
ne permit să votăm sau nu - este liber
nu există nici un vot cu amprentă violetă
nici satâr ţinut la gâtul familiei tale
nici AK47 să te convingă la urne
nici stat în praf, fluturând acelaşi steag
ca maşinile prezidențiale.
Noua Zeelandă este o ţară norocoasă
avem o geografie surprinzătoare
nicio topografie de pământ blocat
suntem departe, dar destul de aproape să vedem
că economia noastră de produse lactate
produce lapte, în acest pământ de miere.
Kiwi (neozeelandezi) – Shakespeare,
familii de oieri patrulând în
cizme de cauciuc, tricouri negre purtate cu mândrie,
mentalitatea că ingeniozitatea este soluţia
în industrie și companii
este Fred Dagg adaptându-se la viaţa de oraș.
Avem apă ca nimeni altii
turbine eoliene și cele cu energie solară
și Antarctica: Terra Australis Incognita
exploratorii noștri polari –
eroii noştri cunoscuţi pe tot globul.
Este un pământ al oportunităţii
munca grea se face sincronic
acolo unde noi încă putem gândi diferit
pentru că noi suntem
Oceanul Pacific al neozeelandezilor
barca din lemn de totara parcată
lângă cromatul Humvee
alături de Vespa, lângă taxiul
modernizat al unchiului
unde frumusețea plajelor este gratuită,
locuri rezervate pentru corturi de joacă,
papuci de plajă, lipa-lipa.
Modelul Rachel Hunter
picioare goale lopătând apa
sub sfântul nostru ozon caracteristic.
Orașul Frate din desenele animate de la TV
mentalitatea Vultur vs. Rechin
transformată de Ierusalimul lui
Jim Baxter în Ponsonby,
poezia berii DB Bitter a lui Sam Hunt
brioşele Devonshire
la o ceaşcă de ceai, la Mansfield
jachete Corduroy pentru demnitari,
roind ca albinele în costume albastre.
Da, Noua Zeelandă este o ţară norocoasă
este o ţară curajoasă
bani din cântat şi cerşit pe strada Cuba
unde poti cumpara McDonald şi KFC,
lângă oase de porc, puha şi palusami
taro, kumara si sapa sui
mâncare indiană iute cu curry
mâncare coreană gătită la wok – fără MSG
pe piaţa liberă a includerii din Otara.
Şi nu-i aşa că o ducem bine la nivel global?
Nu-i aşa că All Whites
au fost buni în Cupa Mondială în 2010?
Winston Reid a făcut-o şi noi toţi ne amintim când.
Prima noastră medalie de aur olimpic în 2012,
vâslaşii din insula de sud
Joe Sullivan din Picton,
Nat Cohen din Invercargill
ultimul nostru aur olimpic,
nedreptăţita noastră kiwi-tongană
Valerie Adams câștigă a doua zi
după ce au fost îndreptate toate greșelile.
Noua Zeelandă este o ţară norocoasă
când cea mai mare anomalie a natiunii noastre
este libertatea de "a fi" sau "a nu fi"
să fii adeptul noii culturi sau celei tradiţionale,
să porţi burqa sau faţa şi părul descoperite
avem educație liceală și preşcolară
spitale, reciclare a deşeurilor și biblioteci.
Noua Zeelandă este o ţară norocoasă
dar, la fel ca Sir Tipene și Sir Paul Reeves
trebuie să ne extindem orizontul
altfel putem spune Noapte bună kiwi
și tot ceea ce credem că este liber
devine ostatic pentru o economie mondială.
Avem nevoie de interacţiunea generațiilor
eco-durabilitate
pentru combustibilii fosili
și sursele noastre de energie
în această țară a spațiului,
a apei și a mării.
Avem nevoie de un pic de Hillary
care avea aceeași teamă de înălțimi
ca tine si ca mine
dar a doborât-o pe nenorocită, în final.
Da, Noua Zeelandă este o ţară norocoasă,
norocoasă, norocoasă, norocoasă.
(DARK SPARRING, Auckland University Press, 2013, reprinted 2017)
***
NEW ZEALAND, THE LUCKY COUNTRY
(for Leadership New Zealand and Jo B)
New Zealand, the lucky country
Aotearoa, land of divine poetry
of Papatuanuku and Rangi
lovers of land, sky and sea
progenitors of Maori.
Yes – New Zealand's a lucky country.
Lucky, the brothers were restless sons
lucky, they warred where dark had won
lucky, they longed for the light of the sun
and the warmth of the open air.
Lucky, Tane was the heart-led son
seeking bloodless revolution
lucky, he had the strengths to stand
and pry his parents apart.
Lucky the lovers loved so much
missing the caress of each other's touch
for Rangi cries tears from the sky so freely
and Papa's fecund soil's so healing
giving us Tanemahuta's forests and jade green
rivers, lakes, underground springs
a green belt round this nation's hips
kissed all over by Moana's blue lips.
From Te Wai Pounamu to Te Ika a Maui
greenstone to fishtail, lucky, lucky country.
See the pohutukawa blush deeply
along cliff edges rising steeply
where the dead depart for Hawaiki
from Cape Reinga to Rakiura's sea.
Yes, New Zealand's a lucky country
if you're not Tangata Whenua
you're Tangata Tiriti
whether British, South African or Somali
Chinese, Indian or Israeli
we've got the diversity
no ethnic cleansing policy –
well, except for around 1833
that 'infected blanket' strategy
Britain's Manifest Destiny
taking land by any means necessary
historical platform for Maori
fighting land wars, foreshores,
Bastion Pointing the way
to O, blessed Tiriti o Waitangi
setting a fire in your belly
against paternalistic tyranny
Just do it said Sir Tipene
was before Nike.
Yes, New Zealand's a lucky country
this land, home to migrant tauiwi
from 1858 Wellington Gujarati
to Al Wendt's flying fox in a freedom tree
Pule's tapatalk canvassed 10 metres by 3
where 250,000 at Western Springs
drink deep from the well. Hear them sing:
Kiribati, Fijians, Tuvaluans, Samoans
Ni-Vanuatu, Rotumans, Tongans, NZ-borns
and the fusion from Niue to Scottish Highlanders
makes Fij-ongans, Raro-moans,
and Pakeha-islanders.
We had our Muldoon but he was no Mugabe
we're fourth in the world
with the least political conspiracy
we wear our sloganed t-shirts freely
in Queen Street I see:
Politicians are the same all over.
They promise a bridge
where there is no river.
And this one, from Taupo, down by the lake:
In NZ anyone can be Prime Minister –
it's a risk you take.
New Zealand's a lucky country
where our birth-right civic duty
lets you vote, or not – it's free
there's no one purple finger vote
no machete held at your family's throat
no AK47 to persuade you at the polls
no standing in the dust,
waving the same flag as the Presidential Rolls.
New Zealand's lucky country
we're inconvenient geography
no land-locked topography
we're far but close enough to see
our dairy economy
makes the milk, in this land of honey.
Kiwi-Shakespeare shearing farming families
gumboot brigading, black singlet parading
no.8 wire mentality
in Enterprise and Industry
it's Fred Dagg haggling in the city.
We've got water like no other
wind turbines and solar power
and Antarctica: Terra Australis Incognita
our polar explorers – our global heroes.
It's a land of opportunity
hard work meeting synchronicity
where we can still think differently
'cos we're Te Moana Nui a Kiwa's Kiwis
totara waka parked next to chromed Humvee
next to Vespa next to Uncle's suped-up taxi
where beaching beauty is for free
reservations of canvas teepees
jandals flip-flopping
Rachel Hunter tip-topping
bare feet lapping the sea
under our Holy ozone CV
bro' Town cartooning out TV
Eagle vs Shark mentality
Jim Baxter's Jerusalumming it in Ponsonby
Sam Hunt's DB Bitter poetry
Mansfield's Devonshire
scones over a cuppa tea
corduroy jacket dignitaries
swarming hive blue-suited bees.
Yes, New Zealand's lucky country
it's a plucky country
Cuba Street busking, husking money
where you can buy McD's and KFC
next to pork bones, puha and palusami
taro, kumara and sapa sui
swirling Indian curries
Korean woking – no MSG
in Otara's free market of inclusivity.
And don't we do so good globally?
Didn't the All Whites do all right
in the World Cup twenty-ten?
Winston Reid did the deed,
and we all remember when.
Our first twenty-twelve Olympic gold,
South Island boys rowing
Picton's Joe Sullivan,
Invercargill's Nat Cohen
our last Olimpic gold,
our shot-putting Kiwi-Tongan
Valerie Adams wins the day
after righting all that wronging.
New Zealand's lucky country
when our nation's greatest anomaly
is the freedom "to be" or "not to be"
to be nouveau culture or customary
to walk with burqa or face and hair free
we've got education high school to kindy
hospitals, recycling and libraries.
New Zealand's a lucky country
but like Sir Tipene and Sir Paul Reeves
we've got to horizon-seek
otherwise it's Goodnight Kiwi
and everything we think is free
lies hostage to a world economy.
We need inter-generationality
eco-sustainability
for our fossil fuels and energy
in this land of space, water and sea.
We need a bit of Hillary
who had the same fear of heights
as you and me
but knocked the bastard off anyway.
Yes, New Zealand's a lucky, lucky, lucky, lucky country.
---------------------------------
(DARK SPARRING, Auckland University Press, 2013, reprinted 2017)
*Traducere (Translated in Romanian language by): Valentina TECLICI